Current Treatment Status Summary
Report Content
This feature generates a downloadable CSV file for a specific agency, region, unit, and year range. It lists interacting treatments and their current monitoring status (Not Started, In Progress, Complete). Report details include:
Treatment Agency
Area/Region
Admin Forest Code (if applicable)
Treatment Unit
Treatment Sub-Unit
Treatment ID as listed in FACTS or NFPORS
Treatment FTEM Monitoring Status
Treatment Name
Treatment Completion Acres
Treatment Completion Month
Treatment Completion Year
Treatment Type
Wildfire Name
Wildfire Discovery Date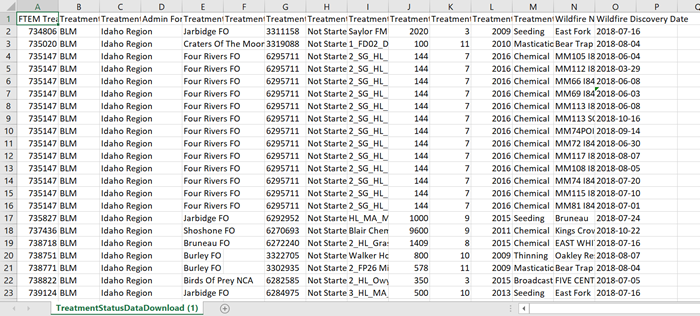 Report Download Options
Right click the Data Download example link and select "Save link as" in your browser to save an example to your computer in .csv format.